In this article you will learn how to claim, update and delete a SiteConnect generated QR code
SiteConnect sells pre-printed QR codes for $5 + GST on weatherproof stickers. These are the only QR codes that can be claimed through the SiteConnect portal.
Index:
QR Codes should be scanned using the SiteConnect mobile app. Using any other app to scan the QR codes will yield unexpected results that does not relate to SiteConnect.
Claiming a QR Code
To claim a QR code go to the SiteConnect main menu on the left and click on 'Sites'. A list of your sites will appear. Choose which site you want to add the QR Code to and then click on 'edit' on the right hand side of the screen.

This will take you to the site concerned. The site details will show along with a list of options on the right hand side. Choose and click on the 'QR Codes' tab.


The next screen will give you the option to 'claim a QR Code' and '+ New QR Code' (this is the option to generate and print your own QR codes). We want to chose and click on 'Claim QR Code".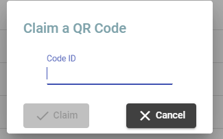 Once you have clicked on 'Claim QR Code' a dialog box will open called 'Claim a QR Code'. Enter the QR Code ID number in the dialog box. You will find the 'Code ID' on the pre-printed QR Code.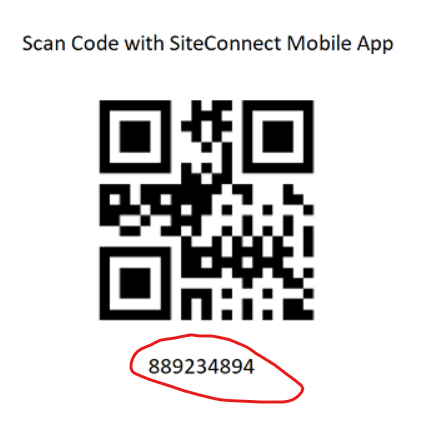 Once you have claimed the QR code, it will be associated with the chosen site and is ready for use.
Place the QR code in an easily accessible area, i.e. a site hazard board, site office, reception desk. Make sure you display the correct QR code in the right location.
Updating a QR Code
Should you wish to make any changes to the QR code you can click on 'Edit'.

Once you click on 'edit' this will take you to the below screen where you can make changes to the type, name and message of the QR code.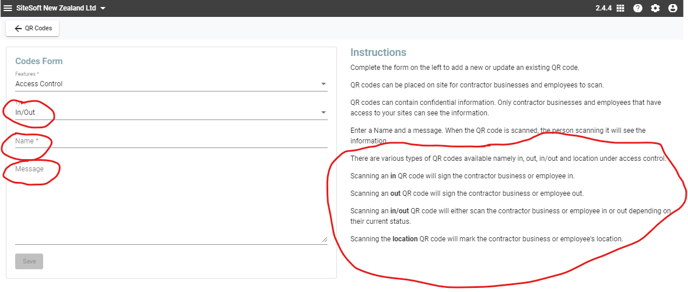 Deleting a QR Code
To delete a QR code go back to the site menu, choose the applicable site and click on Edit.

Click on the QR Codes tab on the right hand side.

Then 'click' on Delete. This will delete that QR code and it will no longer be active. Deleted QR codes can be restored by SiteConnect staff.

If you need any further help or have any questions please contact the support team by email support@sitesoft.com or Ph: 0800 848 763