Here you will learn how to access and complete Forms you have been assigned in the SiteConnect Mobile App
Index:
Please watch the following video on how to access and complete your Forms via the SiteConnect mobile app:
My Forms on the mobile app (4:35)
If you still need assistance after watching then please keep on reading...
Accessing your Forms
To start off with you may have received a notification from Site Connect stating that you have a Form in your profile that needs completing.
The forms that you have been notified to complete by your company will appear on the Dashboard of the app as soon as you log in. Just log into the SiteConnect app, then you should see the following My Forms box on your Dashboard. this will show the number of Forms you have completed and the number of Outstanding Forms that you have yet to complete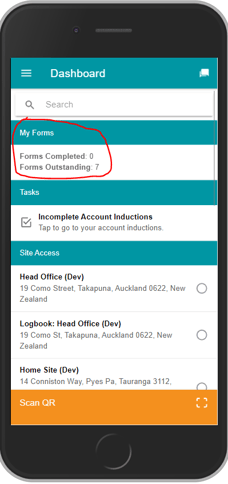 Simply click this box to access a list of all of your assigned Forms. These will show in the Status column as either Assigned (if you have not entered the form yet), In Progress (if you have entered the form and not finished it) or Submitted when this form has been completed.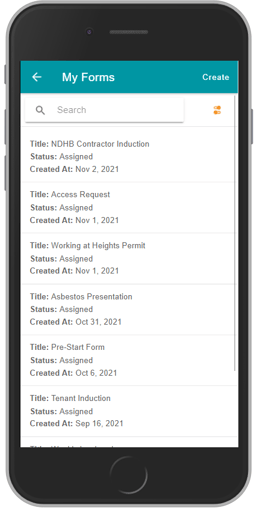 Click any one of these Forms to then access the content and complete it. You will be able to either fill in information or tick/select options based on the Form that you are completing.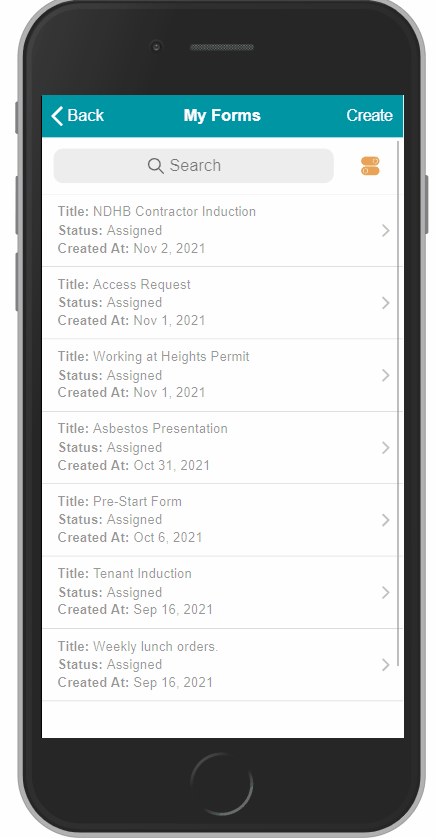 Once you have completed the Form click Save & Close at the bottom to submit the form. Your managers will the be notified that you have submitted this and will be able to view your answers on their end.
You can also access your Forms by clicking the three horizontal lines on the upper left hand corner and then clicking My Forms on the menu that appears.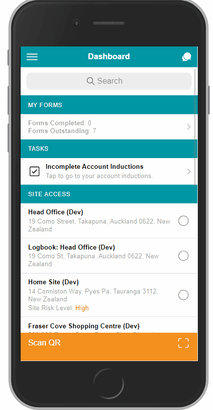 Filtering your Forms
In the My Forms menu you can also filter your list to your liking. When you click on MY Forms you can then click the Orange Filter icon on the upper right hand corner next to the Search bar.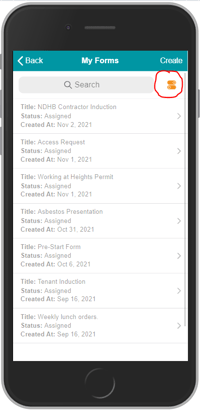 From here you can then filter the My Forms list by the following criteria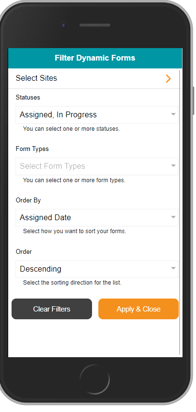 Select Sites- filter the list for Forms relevant to selected Sites
Statuses- either Assigned, In Progress or Submitted
Form Types- either a standard Form or a Site Induction
Order by- can choose to order the list via the Assigned Date, Form Title (alphabetical) or Form Type
Order- can also choose to order the form based on these other criteria in ascending or descending order
You can also click Clear Filters to clear these filters and start again or Apply & Close to apply your filters and access your My Forms list again.
Accessing Forms Via a Site
You can also access your Forms and automatically filter them to only show the forms relevant to a specific Site.


to do this, access the Site that you want to bring up the Form for by clicking the appropriate one in the Site Access menu on your Dashboard.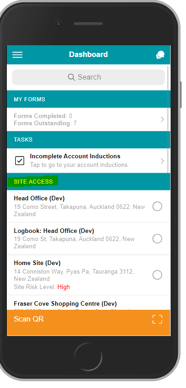 Once in the Noticeboard for that Site, click on the My Forms button that appears at the top of the page to access a pre filtered list that only shows Forms relevant to that particular site.
Creating Forms via the Mobile App
When in your My Forms list you will also the Create prompt on the upper right hand corner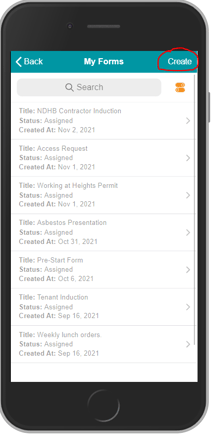 From here you will be able to create Forms from pre made Form Templates that have been created by the administrators for your SiteConnect company/account.
When you click Create, you will be prompted to select a Site to assign the Form to.
Then once a Site is selected, you will then be promoted to select a Form Template.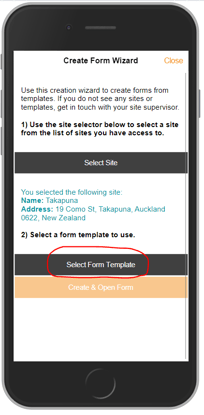 If the appropriate template is not available this will need to be added by the administrative account holders so please contact them directly)
Once a Template has been selected, click the orange Create & open Form button to create the Form.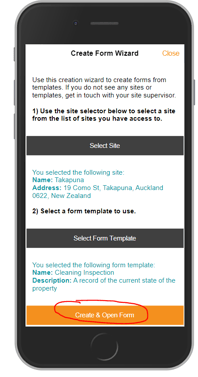 You will then be able to complete this Form and submit it. This will then notify your managers that a form has been created and submitted and this will update their records so that they can view your Reponses.
If you need any further help or have any questions please contact the support team by email support@sitesoft.com or Ph: 0800 748 763