Learn how to access specified systems.
In this article you will learn how to access specified systems that are assigned to a site.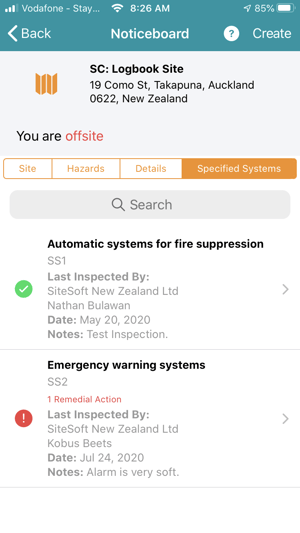 When you open a site that have specified systems enabled, you will be shown the specified systems as the primary tab. If you are not shown the specified systems then you can simply tap the specified systems tab to see a list of specified systems that are associated with the site.
For each listed specified system, you will see the name and code of the specified system. That is followed by the details of the last inspection that took place. Specified Systems that have outstanding remedial actions is clearly highlighted with a red icon and text.
Tap on the specified system to open more information about it.
If you do not see any listed Specified Systems, please contact BC (Building Compliance) Group for assistance.
For any SiteConnect issues or questions, please contact us at support@sitesoft.com or call us on 0800 748 763.